The Oxford Dictionary describes a gremlin as an imaginary little creature that gets into things, especially machines, and makes them stop working. The "Capacity Gremlin" is not imaginary; it is very real and can easily be detected and exterminated, if customers have the desire to do so.
A large number of customers are misguided in the belief that infrastructure capacity planning is a nice to have and that the capability to measure and manage their IT infrastructure resource capacity is an unattainable goal.
If cognisance is not taken of the importance of knowing what you are paying for, or what you should be paying for, you have to question whether you are providing value to the company.
CIOs should be asking themselves a question: "Should I be buying a house with five bedrooms and three bathrooms, when there are only two of us living in the house?" The analogy is one of common sense, when one equates this to the amount of processing power, storage or network "pipe" size that your company requires to run a cost-effective operation.
The truth is, you cannot contain costs, nor can you budget effectively without knowing what you have and when you are going to need more. Experience has shown that companies often use only 5%-10% of their processing power across multiple servers. Workloads could be redistributed effectively over fewer servers, thereby freeing up licences and saving or avoiding licence costs.
In the same vein, more often than not, storage is misused and abused, by departments over-allocating requirements for future projects.
On the other end of the scale, insufficient capacity resulting in slow responses or worse, system crashes, will seriously affect your business and customer relationship.
So, where does the answer lie?
Right-size your environment; ensure you have the right amount of resources available at the right time and provide accurate forecasting for future requirements. This will enable you to align to your budget and provide optimal customer service.
CIOs should be asking themselves the following questions:
* Is my infrastructure used in the most cost-effective way?
* Do I have any infrastructure right-sizing strategies in place?
* What optimisation strategies am I embarking on?
* Am I applying predictive analysis to my environment?
* How much cost avoidance and saving can I realise on the budget?
Fortunately, by making use of MentPro's Capacity Optimization and Infrastructure Right Sizing service, budget can now be allocated to areas where it is needed most, by reallocating, reassigning and re-purposing infrastructure resources, thereby creating and freeing up additional capacity.
MentPro will methodically analyse workloads, scrutinise processing windows and intervals.
Capacity optimisation plan (COP)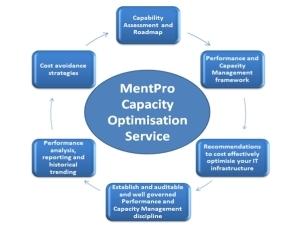 MentPro Capacity Optimisation Service.
Additionally, MentPro will deliver a capacity optimisation plan (COP), which will:
* Identify IT areas where infrastructure optimisation and right-sizing can be applied;
* Show how to realise immediate business value;
* Contain recommendations on IT landscape optimisation; and
* Recommend realisation of immediate cost avoidance and saving benefits.
By applying disciplined intelligent infrastructure scaling approaches based on accurate and trusted data, cost efficiencies can be maximised, while wasteful expenditure and under-utilised resources can proactively be identified.
Right-sizing is an integral part of the MentPro Capacity Optimization process, and some of the key outputs from this exercise are real usage and processing information to determine actual IT efficiencies, as well as identification of any shortfalls or over-allocations. This process will also expose and identify potential areas for licence consolidation and cost-avoidance.
MentPro Insights Capacity Planner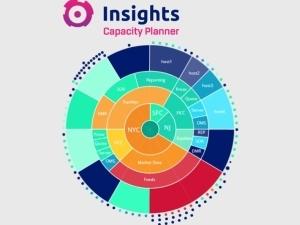 Use powerful scenario modelling to correlate application and infrastructure data together.
Insights Capacity Planner enables you to optimise your current infrastructure as well as to model future change. As part of its managed services offerings, MentPro also provides a cloud-based capacity planning solution, Insights Capacity Planner, which provides ongoing management of a customer's environment. Capacity planning reports are produced on a monthly basis, or whatever period is chosen to suit the customer.
Report: Regain control by reporting on infrastructure allocation, usage and cost on an infrastructure platform, supplier, location, line of business or business service basis.
Recommend: Improve service to your customers, manage costs and reduce waste by identifying areas where resource allocation and usage are imbalanced. Add more infrastructure where historical usage shows it is lacking, or reclaim resources from areas where they are not needed.
Predict: Become more proactive in your management, avoiding potential problems before they become business-affecting. Detect increasing trends in resource consumption across computer, storage and networks and alert users when usage is predicted to reach certain levels in the future.
Plan: Manage the balance between risk and cost in the face of constant change by modelling future change scenarios. Model migration to new technology platforms, including public cloud, increasing demand on resources or on-boarding.
MentPro offers a vendor-independent capacity management solution without the need for complex and time-consuming agent deployment and management. MentPro's Capacity Planner takes performance data or any other metric from a vast range of monitoring tools, virtualisation solutions and, by using a powerful predictive analysis engine, can recommend optimisations and predict future capacity-related issues. With integration capabilities into leading ITSM solutions, capacity issues can also be logged and managed through the normal incident management process.